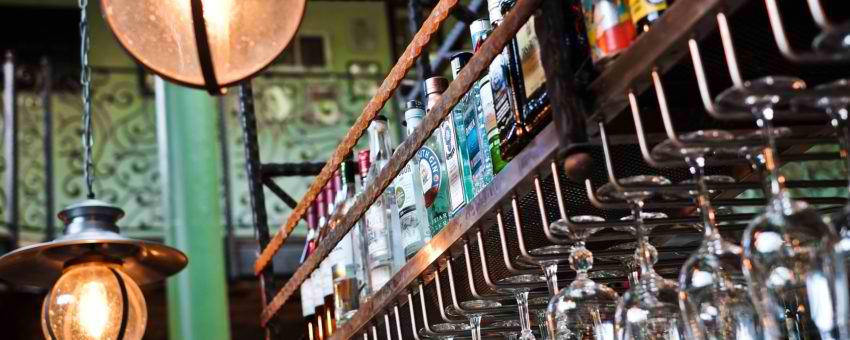 Rent a Philadelphia Pub Crawl Party Bus to Keep the Party Going All Night Long!
A pub crawl in Philadelphia is a blast, but our area's parking problems are so awful that the crawlers end up spending more time crawling around looking for a parking place than they do bending their elbows and telling stories at the bars on their itinerary. What if there was a way for you and all your friends to pub crawl from one pub to another without having to deal with parking hassles? The good news is that there is a way, and savvy pub crawlers have known about it for quite a while! They rent Philadelphia party buses from Allied Limousine and leave the driving, parking and other hassles of getting around to our chauffeurs. They also rent our party buses for luxurious amenities such as these:
Wet bars
Great audio/video systems
Privacy windows
LED lighting
Renting a pub crawl party bus from Allied Limousine is more affordable than you think it is! Whether you treat and pick up the tab or have everyone kick in, our Philadelphia party bus rates are quite reasonable and affordable, and by the time you add up parking expenses and gas, well, the choice is clear. The next time you're planning a pub crawl, give us a call at 1-215-752-2100. Ask about your Philadelphia party bus options, and get ready to have a great time!
We've narrowed down to 13 neighborhoods for the best Pub Crawl and drinking neighborhoods in Philadelphia.
13. Queen Village Pub Crawl
Tattooed Mom is a must visit, offering vegan eats and cocktails with Pop Rocks. It's the perfect place to go after seeing a show at the TLA. Just a block away is Brauhaus Schmitz, for when you need a Berliner weisse and lederhosen fix, and if you head further east you'll hit For Pete's Sake at Front & Christian Sts, a go-to for late-night beer & wine lovers.
12. University City Pub Crawl
City Tap House has a lengthy alternating beer list (not to mention morning beermosas) to enjoy from its killer outdoor deck. Just around the corner is Harvest, serving up organic seasonal cocktails (grab one before heading out on the dance floor on the weekends). And when you need your fix of margaritas, tacos, and all else that is good in this world, look no further than Jose Garces' Distrito. And we haven't even gotten started on the string of cozy polished pubs and restaurants lining Sansom St, like White Dog Cafe, New Deck Tavern, Doc Magrogan's, and others.
11. Fairmount Pub Crawl
Yes, parking sucks, which may deter anyone not living in Fairmount from heading there, but there's a reason locals like to brag. One reason? It seems like just about every hole in the wall in Fairmount takes beer variety very seriously. First, there's the more spacious, less hectic cousin of Monk's at The Belgian Cafe, where you'll probably need extra time to comb through the beer book; or the nearby Green Room if you're in the mood for some pool. Next, there's the rotating beer/wine taps at Kite & Key, as well Fairmount Ave mainstays Paris Wine Bar, Urban Saloon, and the sports-friendly Bishop's Collar.
10. Midtown Village Pub Crawl
Midtown Village strikes the perfect balance between powerhouse party destinations (hello, McGillin's) and dim cocktail lounges (looking at you, Charlie was a sinner). There are also plenty of in-betweens that offer just as much night-out fodder: the endless beer menu at Brü; the outdoor space and mysterious potions of the fishbowl at Graffiti Bar; the wrap-around bar at Double Knot; the rooftop lounge at The Continental; and the photo booth at El Vez – are all staples of the area. Set up shop further east at MilkBoy to enjoy the floor-to-ceiling windows and live music on a summer night, or get your dance on at Franky Bradley's before retiring to Fergie's Pub.
9. Washington Square West Pub Crawl
We love this neighborhood because it's full of quintessential holes in the wall, coupled with a handful of fresh space concepts that feel extra special. The kitschy, cozy vibe of Dirty Franks will keep you slugging lagers all night, but craft beer and gratuitous dog decor (and the mac & cheese) will have you turning to Good Dog Bar when you're at a loss. Jose Pistola's is a must when you're craving beer or tequila with a side of fresh, no-frills late-night tacos. On the way to the park, you'll also pass Moriarty's and Irish Pub for more classic pub experiences, but when it's time to taste some wine & cheese pairings, head to Tria on Spruce St, and come with an empty stomach. Oh! And don't forget to try some classic cocktails at Varga Bar.
8. Spruce Hill & Cedar Park Pub Crawl
Just outside of University City as you head toward West Philly is a collection of quaint hideaways that just so happen to be prime for bar hopping, as well as some craft beer destinations to write home about. First there's Fiume, the cozy dive on the second floor of Abyssinia Ethiopian Restaurant. Not far away is Local 44, where you can dine in or create your own craft beer six-pack to go at the bottle shop. Try your beer (and delicious burger) at the Bar(n) on Baltimore with a side of board games… that is, if you have room after gorging on fried mozz and IPAs at Dock Street Brewery. Don't forget to also hit up the outdoor area at Gojjo and sample the tap beers and wines at Clarkville.
7. Callowhill Pub Crawl
Make sure you check out the retro/go-go dancer haven/whiskey bar that is The Trestle Inn, and the creators of genius cocktails at BRICK AND MORTAR. Outdoor beer garden Llama Tooth, with its expansive beer menu and generous seating and Union Transfer, which has become a favorite venue for touring bands since opening in 2011. Let's also not forget the killer happy-hour specials at Prohibition Taproom, or the parade of eclectic events at Underground Arts.
6. Rittenhouse & Fitler Squares Pub Crawl
Rittenhouse isn't all expensive cocktails and wine bars, some worth your buck include the Library Bar, secret El Rey speakeasy The Ranstead Room, the nearby Prohibition-themed Franklin Bar, and the laid-back romance vibe at 1 Tippling Place. Besides egg whites and bitters, the beer bible menu at Monk's is not to be skipped, while the kitschy hole-in-the wall Doobies will leave you wondering what day it is. Tinto matches an incredible wine list with Spanish tapas and happy-hour specials, and Pub & Kitchen melds the feeling of a cozy neighborhood tavern with strong drinks and elevated Euro-American dishes. Vegans and carnivores alike can enjoy the hefty margaritas at Puerto Rican Bar Bombón, especially if V Street is too crowded.
5. Old City Pub Crawl
This neighborhood still has plenty when it comes to shelves of moonshine (JJ Bootleggers), and reinvented historic spaces (like Garces' The Olde Bar). There's also classic dives like The Khyber Pass Pub (complete with bacon grease popcorn), the dance-happy bar at National Mechanics, and craft beer for days at 2nd Story Brewing Co. Even better about Old City is its proximity to Penn's Landing, where summer pop-up Spruce Street Harbor and the outdoor Seafood Shack at La Peg dominate.
4. Graduate Hospital Pub Crawl
Bob & Barbara's takes the lead when you're up to mingle during Friday night jazz or Sunday karaoke, but just across the street, REX 1516 will fancy you up with lavender cocktails and whiskey specials. The alternating beer list and the twinkly outdoor patio at The Cambridge is perfect for the summer. Head down to Christian St for craft beer gastropub The Sidecar Bar, or drink your way around the world with Jet Wine Bar's worldly offerings.
3. Northern Liberties Pub Crawl
Long-running neighborhood staples like Standard Tap and Ortlieb's serve as constant beer havens. It also turns out you can go bowling and not be a dweeb at North Bowl, and dance off your mac & cheese at Silk City. Don't forget The 700 for when you want to dance but still have over 80 beer choices at your disposal. A trip to Yards Brewing Co, complete with free samples, doesn't hurt the neighborhood's spot in the rankings, nor does the trendy atmosphere of tapas spot Bar Ferdinand or the beer garden at Heritage.
2. East Passyunk & Passyunk Square Pub Crawl
Fountain Porter's weekly draft updates and Pub on Passyunk East (POPE)'s dim atmosphere and old-school jukeboxes are low-key favorites, while the bartenders at French restaurant Townsend will craft you a mean cocktail to go with your escargot. Garage wins when it comes to irreverent settings, with a storefront that still looks like an old garage, leading way to a surprisingly spacious bar spotted with arcade games and a lengthy beer book. Get your music fix (and half-price cocktail specials) at Boot & Saddle, your sangria and late-night taco fix at Cantina Los Caballitos, or curl up by a fire with a craft beer at Devil's Den. Lucky 13 and Dive Bar are other divey options, but head to Stateside when you're in the search of craft cocktails and spirits, especially whiskey.
1. Fishtown Pub Crawl
First things first: it's hard not to love the rotating local beer list, indie performances, and the kitchen that stays open late to serve incredible burgers at Johnny Brenda's. A stroll around the El will lead to, appropriately, El Bar, where you can see the train tracks from the outdoor deck, Kung Fu Necktie, with live music and red leather booths, and the refreshing setting at cafe/bar hybrid Front Street Cafe. That's only the beginning, though: walk through Frankford Ave to sock away giant beers at the beer garden backyard of Frankford Hall, or sample Texas classics and plenty of whiskey at Fette Sau.
Fishtown also wins when it comes to themed or dual-purpose bars, like Barcade, where all the vintage arcade games of your dreams have converged in one space. The retro-tinged setting at Loco Pez is perfect for throwing back a few over a plate of nachos with friends, while the penny-covered bar at Murphs adds some ambiance to this classic Irish pub.
Courtesy of Thrillist.